Group Chat Control Service
Group Chat Service allows you to use group chat without having to log in to Second Life using your web browser.
Group chat can be accessed by both owners of the account and appointed moderators of the group (see below).
Features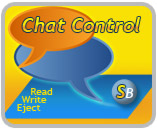 1. LISTEN AND TALK
Read messages in group chat in real time
Send messages to the chat (they go in the name of the bot)
2. EJECT SPAMMERS
Send warnings to particular members
Eject members from the group.
3. MODERATOR ACCOUNTS
Create separate chat moderator accounts
View moderator's activity
Chat Logs
Group chat displays the same information as the chat in Second Life, but the Group Chat service keeps chat logs for the last 24 hours, even if the owner and all the moderators are offline

The chat logs can be viewed by choosing between the log time as seen below:

Note you can read the current chat, as well as send messages to the group ( message will be sent on your behalf in the name of the bot)
Chat control (Antispam)
You can mute/unmute group chat, warn and eject spammers and abusers (with addition members to a blacklist or not) from your SL group. Also you can write the ejection reason from group in pop-up menu it will be sent via IM violator automatically.
This is easily done by using SmartBots group chat interface: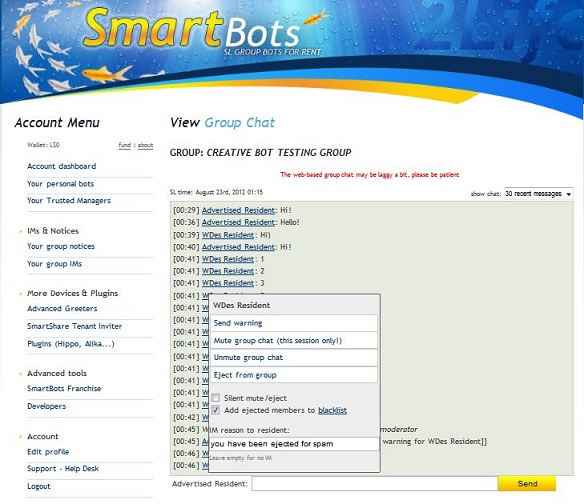 You may also use the anti spam device to automatically manage chat. See Anti Spam Device for more details.
Moderators
You may assign other residents to moderate your chat.
Moderator accounts have access to the group chat only (it can't edit, create or delete SmartBots groups). However, all moderator's activity is logged, hence you can check your staff activity later.
Read more here about managing moderators accounts.
How To Activate
To activate the service:
Login to your account
Locate your group name
Click "add/remove services"
Check the box that says "Use Group Chat Manager Service"
See Enabling and Cancelling Services for detailed instructions.
See Setting up bot for chat control for details on how to configure the bot to work with this service.
What's Next?
Questions, wishes and discussion