Personal Bots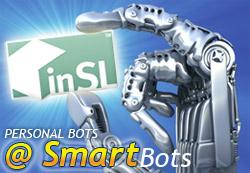 SmartBots allows you to control your own Bot giving you full control over an avatar (movement, appearance and behavior) you create using the SmartBots Personal Bot HUD.
Features
Stable and Reliable
We host the bots on our servers, and you don't have to worry about uptime: the average bot uptime is 100-150 hours with 1 minute relogs.
If your region restarts, the bot will automatically teleport back to region and sit on a selected object.
Maintenance-free and controllable
Personal Bot Control Panel to manage your bot effectively
Personal Bot Inventory Browser to manage your bot`s inventory
SmartBots HUD to remotely control your bot: teleport, walk, sit and change options.
Bot Live Chat web interface can be used to send and receive bot's Instant Messages.
Use Bot Pose Stand to animate your bot.
Bot inventory to keep items you can send to residents
The bot's appearance, attachments, AOs can be setup using any SL viewer.
Also, all SmartBots bots:
Have the Come-to-me function,
Are powered with an AI auto-responder (using Pandora AI),
Support all kinds of AO (animation over-rider).
Types of Personal Bots
There are two types of Personal Bots available at SmartBots. They differ by functionality and price:
Standard Bot

Usage: greeter, notice sender, AI support.

Includes all SmartBots services: direct inviter, notices, chat, translator.

Supports all AdminBot commands, all HTTP API calls.

Price: L$479 per week.

Model Bot

Usage: mannequin, dance model, beautification.

Does not support additional services (can be a member of Second Life groups, though).

Supports some HTTP API calls (movement, teleport, wearables).

Price: L$179 per week.
Read More about the types of personal bots here.
Questions, wishes and discussion