Group Notices Service
Group Notices Service is designed to send out newsletters in the group: send a group notice, which consists of a header, text, and optional attachments.
Features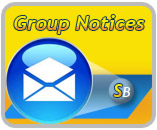 EASY
Create and send notices using web browser
PERIODIC AND SCHEDULED NOTICES
Send notice at specified time
Send repetitive notice on schedule (hourly, daily, weekly)
ATTACHMENTS
Inventory items can be attached to the notice
Group Notices
Group notice is a pop-up message which is delivered to all members of your group. Members will receive it even being offline: SL sends the notification by email.
The following Must be taken into consideration:
Title of a notice may have a length of 254 characters and can not contain non-Latin characters.
Text of notice can have up to 512 bytes (International characters can occupy 2 bytes or more)
Attachments can be chosen to be added from a list of registered attachments. To register an attachment it should be sent to the bot managing your group and have the copy+ trans permission to allow the bot to send it. You can also set the next owner no copy / mod permissions if you want the recipients to be not able to give it away
One-time and periodic notices
There are two types of the group notices at SmartBots:
One-time notices
Periodic notices
All notices can have the inventory item attached (landmark, notecard or any other SL item).
One-time notices
These are notices to be sent once (either immediately or on a certain time). To create them go to the "One-Time Notices" tab .
When you create a group notice you must choose one (or more) groups which will recieve this notice. Next you need to select the date and time of delivery and enter text.
Notices will be delivered according to schedule. After delivery of the notice next to it will be noted when it was delivered:

Periodic notices
These notices are different in that they are automatically sent to the group in accordance with the schedule. Schedule includes:
   * One or more time (can send the same notice at 4,5,6 and 7 am etc)

   * Day of the month

   * Allowed the days of the week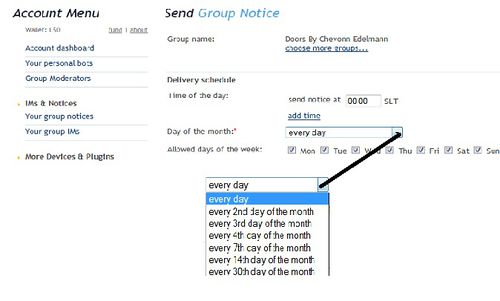 After the creation of notice system will send out schedule when the bot is active. You can temporarily turn of any periodic notice.
Send again
Also you can send your message again in few clicks: just click on the "send again" link and set the new delivery time: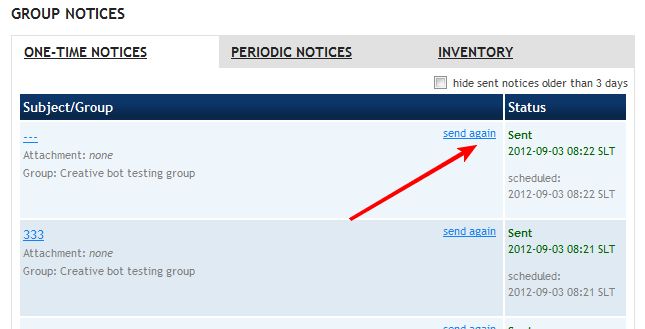 How to Activate
See Enabling and Cancelling Services for details on how to enable the notices service.
What's Next?
Questions, wishes and discussion