SBSL - SmartBots Scripting Language
SBSL (SmartBots Scripting Language) is a simple programming language which allows your bot to react on in-world events and residents' activity.
Features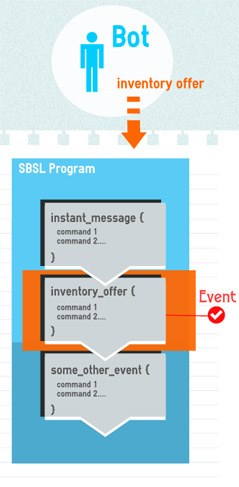 Being powered with SBSL, your bot is able to:
Track residents' messages (chat, IM, teleport offers)
Track groups activity (group chat, notices, group invitations)
Work with inventory (track inventory offers, deliver inventory)
Do custom HTTP requests to your website
Act as alive resident
SBSL comes with each Standard personal bots and does require any additional payments!
Writing SBSL programs
To start programming with SBSL you need a personal bot running with SmartBots. Start writing a script:
Login to SmartBots account
Click on "Manage bot" link
Enable SBSL and click "View scripts":

The script list appears.
Further reading
Read more about SBSL by visiting these pages:
Questions, wishes and discussion